Accessorise
The Season
Brushes, bags and other
made-to-be-gifted favorites.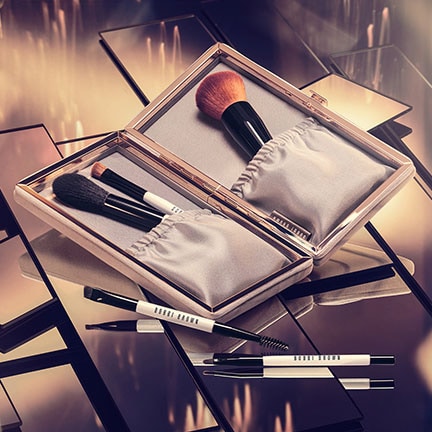 Learn More About Bobbi Brown Accessories
Give the gift of a precision these Holidays with our Brushes & Beauty Tools. Our Brushes are comprised of the highest quality, ultra-soft bristles shaped and designed to deliver a flawless finish. Our favourite BB powder brushes deliver a soft, natural and lightweight finish whilst providing structure and definition to the face. Deck your friends and family out with our must-have, high tech tools to complete their beauty look these Christmas Holidays.

Tip: Your Makeup Brushes will be trialled and tested during the Party Season, so maintain their longevity with our Conditioning Brush Cleanser. Gently work a small amount into the damp brush head and lightly massage the bristles whilst rinsing under lukewarm water. Then pat the brush head dry with a towel, and leave to completely dry out before using again. Our safe, gentle and effective formula leave your brushes clean and impeccably soft.